Today I want to honour five men that "inspire my desire" to serve God and lead his people.
I have no idea whether John Ortberg is a good pastor, and believe it or not, I've never read a single one of his books. But I'll tell you this as a guy who loves to teach: he's a brilliant preacher. The thing is, it's not his delivery that makes him so good. His delivery is okay, but it's generally not all that dynamic or gripping. No, it's his exposition, his insight both into scripture and people, that renders every Ortberg message I've ever heard literally stunning. Lord, would you grant me the insight of Ortberg?
Andy Stanley is another preacher I admire. Andy's exposition is good, but his delivery is brilliant. He's witty, memorable, and is the master of preaching on one thing without preaching about nothing. Every Andy Stanley message I've ever heard has been stunning too, in a different way; he wins you over, so you think, "Yes, absolutely. I'm in. Let's get moving." Lord, would you grant me the winsome clarity of Stanley?
Craig Groeschel is a bit of an anomaly. He pastors the second largest church in North America, ahead of Willow Creek and Saddleback but a distant second to Joel Osteen's big shiny teeth.. er, I mean, church. He's a good preacher. A good one, not a great one. He seems like a genuine, all around great guy. But the fact that God has used him in such incredible ways is not about his own brilliance or even giftedness, in my opinion. Craig wrote a book called "IT," in which he describes the mysterious work of the Holy Spirit, so that some places and people "Have it" and others… don't. Craig clearly has IT. And Lord, please, I want IT too.
Erwin McManus first captured my heart while I read his seminal book, "Unstoppable Force," an invitation to rediscover a radical church. His commitment to celebrate and integrate creativity into his leadership and into the very fabric of his church (and the fact that he turned around an older, ailing church and sent it on a path of greatness under the leading of the Holy Spirit) is inspiring to me. His preaching is excellent, and he never seems to shrink from hitting the nail on the head. Lord, please grant me the creative courage of Erwin.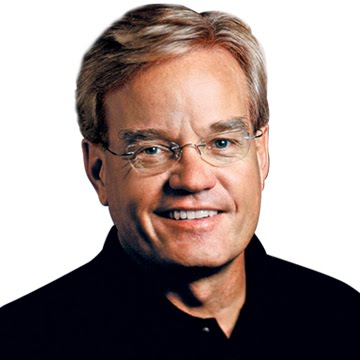 Bill Hybels has been vilified by his enemies and canonized by his homies. I'm not sitting in either camp, but I do believe that regardless of my view of his approach to "church," the man has shown remarkable courage in making difficult decisions and a commitment to develop other leaders. For this, I salute him. He's real, he's flawed, he's wonderful. In my opinion. Lord, please grant me the stubborn courage to make the tough calls for the sake of your will for your church. Like Bill does.
But more than John, Andy, Craig, Erwin, and Bill… I want to be Brad. The Brad you had in mind, Lord. The Spirit-filled, courageous, creative, passionate, Jesus lover I'm meant to be. And, if one day, my postage-stamp sized picture finds its way onto someone's blog list, I hope I'm known for two things: One, my heart for Jesus. And second, my unwavering passion to make God's word and what we're supposed to do with it so clear that people's lives get changed every single week.
Amen.